Celebration of Third International Day of Yoga in Georgia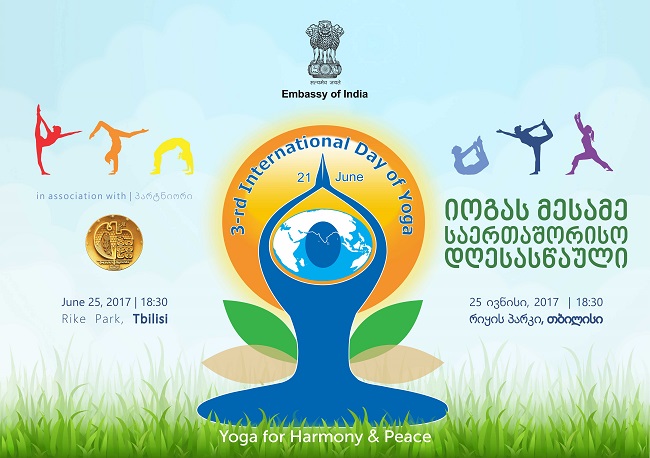 The Embassy of India in Armenia invites all to celebrate the Third International Day of Yoga on 25 June, 2017 at Rike Park, Tbilisi, Georgia from 1830 onwards.
Yoga practice session will consist of the Common Yoga Protocol and other yogic exercises. All are invited to participate in with comfortable Tracksuits or T-shirts & track pants and also bring their own yoga mats.
Celebration of Third International Day of Yoga in Armenia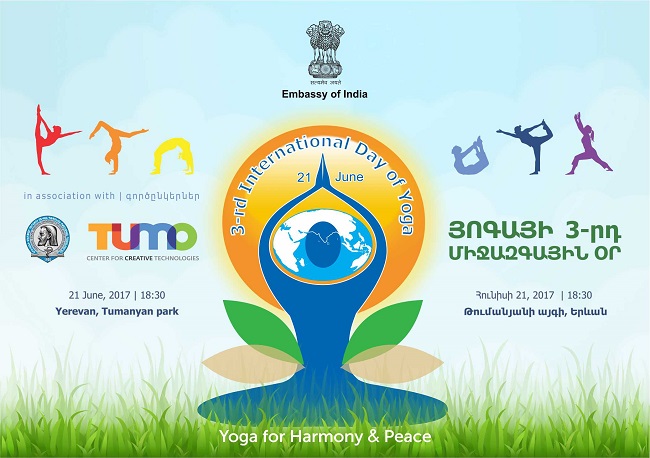 The Embassy of India in Armenia invites all to celebrate the Third International Day of Yoga on 21 June, 2017 at Tumanyan Park, Yerevan from 1830 onwards.
Yoga practice session will consist of the Common Yoga Protocol and other yogic exercises. All are invited to participate in with comfortable Tracksuits or T-shirts & track pants and also bring their own yoga mats.
Winners of "India is in my Imaginations" to visit India
YEREVAN, MARCH 13, ARMENPRESS. The Embassy of India in Armenia in collaboration with the Ministry of Education and Science of the Republic of Armenia and TUMO Center for Creative Technologies conducted All-Armenia Painting and Essay Competition "India is in my imaginations" among the schoolchildren of Armenia among two age groups in December 2014. This first ever event has encouraged over 1500 children to participate in this competition and create their own image of India. The second, third and consolation prize winners received their certificates and prizes during the Reception dedicated to the 66th Republic Day of India on 26 January, while the first prize winners had to hold their breath in joy, as the first prize was a one wee k trip to India. The Embassy of India to the Republic of Armenia informed "Armenpress" about this.
"Today, the Embassy is glad to announce that all the four children, who have won the first prize, will be enjoying their spring vacation in India from 16-24 March 2015. Their programme includes visit to Delhi, Agra and Jaipur, known as "Golden Triangle" in tourism world. They will also get an opportunity to tour in Rashtrapati Bhavan (official Residence of the President of India) during their stay in Delhi. The visit of the Armenian children is sponsored by the Ministry of Tourism of the Government of India,' said the statement.
http://armenpress.am/eng/news/797587/
Golos Armenii newspaper (Russian language daily)
3 February 2015
India - Paradise in a hut or hut in paradise
A photo exhibition was opened on January 27 at the National Gallery of Armenia, which was dedicated to India, specifically, to its northern state of Jammu and Kashmir, which is sometimes referred to as the "crown of the country." After all, if you look at the map closely, a curious look will notice that it resembles a majestic tiara crowning the "forehead" of India. The exhibition is titled "Paradise on Earth" and is devoted to the 65th anniversary of the establishment of an independent Republic.
The grand opening ceremony was attended by Ambassador Extraordinary and Plenipotentiary of India to Armenia, Mr. Suresh Babu, Director of "Lotus" cultural development NGO, Ms. Marina Papian, with whose efforts it was possible to hold this event, and, of course, the director of the National Gallery, Mr. Paravon Mirzoyan, who got the exhibition under the his hospitable roof.
The coordinator of the exhibition Marina Papyan says: "Four years ago, I went to India as a journalist on an exchange program to study mass communication. A year later, I learned that other cultural programs are also in the pipeline and, and began to solicit in the Embassy to that our artists could see this heavenly country. As a result, five Armenian artists visited different cities of India for two weeks, and their impressions afterwards culminated in the marvel-exhibition, which we opened in Armenia. Today's opening is a logical continuation of our work. 82 photos were sent to us, we even restored some of them. India is a fairyland, it is truly a paradise on earth, and by the way, its nature, colors are very similar to Armenia. The people are very warm and kind. But this is completely different civilization, a different attitude, a deep view of the world, a wise philosophy. In short, the East is a delicate matter".
The exhibition was preceded by a concert and film screening. The "Armenian side" of the mini-concert was presented by ensemble "Zangakner", Hakob Khalatyan and Harutyun Chkolyan - masters of playing on kamancha and duduk, as well as dance group "Victoria". Then Indian performers came to change ours. A delicate Indian girl in a sari of blue azure color demonstrated a sizzling dance, full of rich palette of feelings. A whole range of emotions reflected on her face when she portrayed overflowing emotions to the audience, recalling the mysterious and enigmatic East and the people living there. Then the visitors became spectators of a remarkable documentary "India: unity in diversity", created by Orientalist, YSU teacher Naira Mkrtchyan, with the support of information-analytical agency "Armedia" within the framework of special cultural program.
Naira Mkrtchyan spoke about the "Indian trace" in her biography: "Since childhood I loved India, and as a grown-up, I had a unique opportunity to do my post-graduation in Jawaharlal Nehru University. As for the film, we tried to present India as a country of contrasts. However, with many differences, Indians live in harmony together - they are a single entity. More than a billion people live there, a lot of nationalities who profess different religions, but they managed to find their "formula of life" - which, unfortunately, is missing in us. India has still preserved the caste system: the Brahmins - the priests, scholars and ascetics, the Kshatriyas - warriors and rulers; Vaishyas - farmers, artisans and merchants; Shudras - wage laborers and servants. And how many languages! A Babylon! But I was shocked by their degree of tolerance for each other."
So, 82 photographs are presented in one exhibition space. Exhibition can be divided into 10 theme parts: "Nature and the elements", "Seasons", "Water as a source of life," "House and Life", "Work and Crafts," "Fishing," "Faith, religion", "Architecture", "Tourist Attractions", "History of the country, its colonial past"... The splendid nature of the country, its rivers, lakes, islands, mustard fields and green pastures... idyllic pastoral! A further four earthly elements, and in the center - God, the supreme creation.
Indians are mostly pantheists. They believe that God is manifested in everything that he had crated, and above all - in nature and man. Seasons - blooming spring, dry hot summer, golden autumn, snowy winter and spring again... which starts only with the blossoming of narcissuses for every Indian. And the famous rainy season is when the water here is revered most.
A separate part of the exhibition is devoted to the home, household, lifestyle of Indians, as well as the kitchen, preparing a meal, which sometimes turns into a ritual. Each ne had a samovar on the table, from which they drink the famous Indian salty tea. Indians accept a guest as the messenger of gods - he is to be treated well and accompanied to up to his abode, and sometimes taken for a walk, for example, to the bazaar, colorful and noisy, where you can buy a sari or a scarf. Crafts are very appreciated in this country. Crafts, embroidery, weaving work - and as a result of those same markets are full of Pashmina, colorful fabrics and wool. Pottery and papermaking are a separate matter. And most importantly - a creative approach to everything you do. Even for Fisheries. There are original boats in which Indians not only do fishing, but sometimes they live there.
India is a country of 1000 and 1 religions: Hinduism, Buddhism, Sufism, Islam... Sanctuaries, mosques, ancient caves, seminaries, the famous "Temples of the Sun" - it seems that these are celestial structures. Swastika as a symbol of eternity adorns many of them. Temples are decorated with sculptures, which are like a delicate embroidery, are covering the stone as a delicate lace. And right next to it one can see urban development, high flight of engineering mind of Indians. Finally, a separate part of the exhibition is devoted to the history of the country, its glorious past, rulers, aristocratic dynasties and the establishment of a free and independent republic, acquisition of sovereignty. Looking at the old archival photographs, you realize that, however, Indians feel grateful to the British. In fact, besides the colonial past, the UK largely contributed to the development of the country - laid the railway network across the country, developed communication between towns and villages.
"Living in India, I thought a lot that we, Armenians, are a small nation and it should be possible to run the country properly, develop it, take care of the residents. We do not know how to be tolerant and appreciative. And most importantly - we cannot take life easily. While Indians are happy by a simple fact that the Sun rises every day for them and a new days starts. They have a very simple life and a very strong faith in God. It gives them joy and hope. They believe that you must not do evil, but only good, because all that evil, sooner or later, will come back like a boomerang", concludes Orientalist Naira Mkrtchyan.
By Maria Tokmajyan
Photo Exhibition on Jammu and Kashmir 'Paradise on Earth'
Four Armenian students - winners of "India in my imagination" competition - to travel to India
Yerevan. Four Armenian students - winners of "India in my imagination" competition - will travel to India. The travel certificates were handed over to the students on sidelines of the reception timed to the Republic Day in India.
According to the Ministry press office, the winner are Nane Petrosyan and Victoria Torosyan (the best composition), as well as Siranuysh Mkhitaryan and Alvard Baghdasaryan (the best painting).
In his speech, Ambassador Suresh Babu said the competition is one of the Embassy's largest initiatives."This competition is the biggest diplomatic victory that will enhance the Armenian-Indian friendship even more," the ambassador said.
Minister of Education and Science of Armenia Armen Ashotyan, in turn, said the competition was announced last year and became very popular among Armenian students. Hundreds of students from Armenian schools participated in it. In this light, the minister hopes the given initiative will become traditional and a similar competition - this time dedicated to Armenia - will be announced in India.
India Ambassador to Armenia welcomes level of bilateral cooperation
Yerevan. India will continue implementing projects in Armenia, particularly in the fields of science, health, and education. Indian Ambassador to Armenia Suresh Babu told ArmInfo at the official reception timed to the 66th Republic Day in January 26.
In the first quarter of the current year, the ambassador said, India will send specialists to Armenia to complete the project of the telemedicine equipment installation at 11 regional hospitals of the country that will be connected to the central clinic in Yerevan online. Telemedicine will enable specialists in the capital city and in the regions to apply methods of remote consultation through direct video communication. The specialists invited from India have already organized seminars for the local specialists to introduce the telemedicine solutions and technologies.
The ambassador said the second big project is the upcoming opening of computer labs at regional schools, particularly, in the town of Vanadzor.The given project is nearing completion and the necessary equipment will be delivered to Armenia shortly.Ambassador Babu said India's investments in development of the education sector in Armenia will continue. Minister of Education and Science Armen Ashotyan is expected to travel to India within the nearest future to study opportunities of further and broader cooperation of the two countries in the given field.
Suresh Babu said India and Armenia cooperate in many sectors and implement projects also in the fields of economy, information technologies and culture.The two countries have also established friendly political relations.
Interactive Session on 'India - Eurasia and India- East Asia'
An Interactive Session on 'India - Eurasia and India- East Asia' was jointly organised by Yerevan State University, Yerevan in Armenia and the Indian Embassy at Yerevan, on 16 December, 2013 at Yerevan State University. Indian Ambassador to Armenia Dr. Suresh Babu and ICCR's India Chair at Yerevan State University, Prof. Sanjay Srivastava of BHU, made presentations on India and Eurasia (minus Russia) and India-China Relations, respectively. Prof. Alexander Markarov, Deputy Vice Rector, of Yerevan State University introduced the theme. Both presentations explained in detail India's foreign policy disposition, interaction and cooperation vis-a-vis Eurasia (minus Russia) and China.
The presentations were well participated by PG students,research scholars and Professors teaching International Relations & Political Science and were followed by intensive Q&A.
[Photo details: Prof. Sanjay Srivastava of BHU(L) and Ambassador Suresh Babu (R), participating in the Interactive Session on 'India, Eurasia and East Asia', at Yerevan State University.